What is the DoNation Campaign?
Formerly known as the Workplace Partnership for Life program, DoNation is a national campaign that collaborates with workplaces of all sizes and industries in the lifesaving and life-giving mission of organ, eye, and tissue donation. 
What Do DoNation Partners Do?
DoNation partners educate their employees and communities about the importance of blood, bone marrow, organ, eye, and tissue donation. They also provide employees and community members opportunities to sign up as organ donors.
Partners create donation awareness programs for their companies. They use their website, e-newsletters, social media, fact sheets, videos, and events to encourage new donor sign-ups.
Is Your Workplace Part of DoNation?
View our list of current DoNation partners.
How Can My Workplace Join DoNation?
If your company is listed, talk to your human resources department about how to help promote organ donation. If your company is not listed, encourage your employer to sign up to save lives! Learn everything you need to know about DoNation on the DoNation Campaign webpage.
Become a DoNation Partner
Help save and improve the lives of those on the national transplant waiting list. Encourage organ donor sign ups in your place of business. Join the effort and get your colleagues to help save lives.
AETNA provides donation information to employees at wellness fairs and blood drives. The company also tells employees about donation via newsletters, e-mail messages, internal website and special mailings. Materials about donation have been distributed through AETNA's Diverse Employee Networks, every AETNA Volunteer Council in the nation, and six regional Emerging Markets Heads. AETNA headquarters refers its offices to this website for a list of organ procurement organizations that can help with awareness programs.
Blue Cross/Blue Shield of Tennessee held a campaign that educated nearly 3,000 employees about benefit coverage for transplants and created donation awareness. Participants received Blue Jean Casual stickers that let them wear blue jeans to work on one day. The stickers included the Gift of Life Donation Initiative ribbon/heart logo.
For more than five years, the CHRISTUS Santa Rosa Healthcare system has been a Workplace Partner. They have increased awareness and donor registration with internal and public activities. In One year, they held a butterfly release to honor all donors and recipients. Says Sister Michelle O'Brien, a liver recipient and employee, "Because we recognize the rare opportunity to donate life to someone awaiting a lifesaving transplant—Giving Life a Second Chance—we are partners in the crusade to educate our community about the importance of organ, eye, and tissue donation."
CORE Small Business Challenge Reaps Big Results.
What do hair salons, gyms, and restaurants have in common? The Center for Organ Recovery & Education (CORE) recruited all of them to register organ, eye, and tissue donors during their 2019 Small Business Challenge.
CORE, the organ procurement organization for parts of Pennsylvania, West Virginia, and New York, launched the Small Business Challenge in 2018. Business owners compete to sign up organ donors. As a result of the 2019 Challenge, 150 people registered.
Fit 4 Boxing Club, a gym north of Pittsburgh, won the challenge by registering 54 new donors at events and encouraging sign-ups at the end of each class. "We enjoy connecting with folks in our community and supporting local causes whenever possible," said Brett Burkhart, Fit 4 Boxing Club's general manager. "Several of our members even took cards home for their loved ones to fill out, and we had huge success with the organ donor drive."
In April 2019, Studio RAW, a Pittsburgh-area hair salon, offered free haircuts to 15 people who registered as organ, eye, and tissue donors. The salon also used social media to encourage organ donor sign-ups by sharing photos and stories of people on the transplant waiting list. The salon owner, Dan Burda, places messages on social media and has a sandwich board in front of his shop.
Ford Motor Company has supported the Workplace Partnership for Life since its beginning. Ford has encouraged employees to consider donation through articles in @Ford magazine, blood/marrow/organ donor drives, email messages from corporate leaders, and Lunch N' Learn programs. Ford volunteers also encourage DMV customers to sign up as organ donors as they renew their driver's licenses and ID cards.
Arizona Brewery Taps Customers as Organ Donors.
A brewery may not be an obvious site for recruiting organ, eye, and tissue donors. But for Flying Basset Brewing near Phoenix, Arizona, it worked perfectly. Community service has flowed since Sara Cotton and her husband, Rob Gagnon, opened the 200-seat brewery and bar in February 2018. And their most successful drive has been registering organ donors.
During National Donate Life Month in April 2019, Donor Network of Arizona (DNA)—the organ procurement organization serving Arizona—held its annual Heroes for Hope donor drive. Flying Basset signed up 102 new donors. This was the second-highest number of registrations of all groups involved.
The partnership with Flying Basset shows what people can accomplish when they "think outside the box," said Nico Santos, DNA Media Relations Coordinator.
Flying Basset's owners believe talking to people in a relaxed, fun environment can spread the message about organ donation more effectively than in a clinical setting.
General Motors/UAW's model program, Life Match, has added 3,000 employees the donor registry of the C.W. Bill Young Cell Transplantation Program. Twenty-five percent of them are from diverse backgrounds. Other companies are now using the GM/UAW model to promote donation.
Cigna Partnership with Gift of Hope Boosts Regional Donor Registrations.
The Gift of Hope Organ & Tissue Donor Network is a nonprofit organ procurement organization. Gift of Hope joined Cigna, the global health service company, to boost donor registrations in Illinois and Indiana.
Every year, Cigna employees suggest local charities to adopt as a part of the company's Building a Brighter Tomorrow Program. A Cigna vice president, whose wife received a new liver, recommended Gift of Hope.
"This was a personal issue that our team wanted to support," said Danielle Honigstein, Cigna Midwest Project Manager.
The partnership kicked off in December 2019 with a memory box-making workshop. Gift of Hope and Cigna staff and donor families made 288 memory boxes for donor families as a tribute to their loved ones. The Kyle Zuleg Foundation provided blankets for each memory box.
Cigna includes organ donation messages in employee health and wellness programs. They also give insurance customers the option to register as organ, eye, and tissue donors during open enrollment in November 2020.
"Cigna is really helping us be creative in having a presence in the workplace," said Maureen Kwiecinski, Vice President of External Affairs and General Counsel at Gift of Hope. "That's why they loved the memory box-making."
The organizations are working to add a link to state donation registries on the Cigna website. This will let Gift of Hope track the number of donor registrations over the year.
 
The Louisiana Hospital Association (LHA) and the Louisiana Organ Procurement Agency (LOPA) launched a program to increase the number of people on the Louisiana organ donor registry by 160,000 new donors by the end of 2009. The partnership aimed to increase donation education in every hospital in Louisiana and help hospitals become a source of knowledge about donation for their communities. Staff from 50 hospitals attended the training, and 70 hospitals are now part of the effort. One hospital that sent staff to training organized a Donate Life flag-raising ceremony to honor their first-ever organ donor during Donate Life Month in April. The goal of 160,000 new registered donors was surpassed—not at the end of 2009 but in August. Over the next two years, the LHA/LOPA partnership helped increase the donor registry by over a quarter of a million new donors.
The National Speakers Association's president posted a letter on supporting donation to the group's website. The letter urged members to make a personal decision about donation and to mention donation during public presentations. NSA also placed two donor registration cards in an issue of its Speaker magazine.
In 2010, Quest Diagnostics became a Workplace Partner. Quest promoted the partnership by giving posters and other materials to its sites across the country. An internal website made organ and tissue donation information available for the company's 43,000 employees. Quest's goal is to raise awareness of organ and tissue donation and increase the number of designated donors.
United Airlines with LifeGift launch organ donation partnership.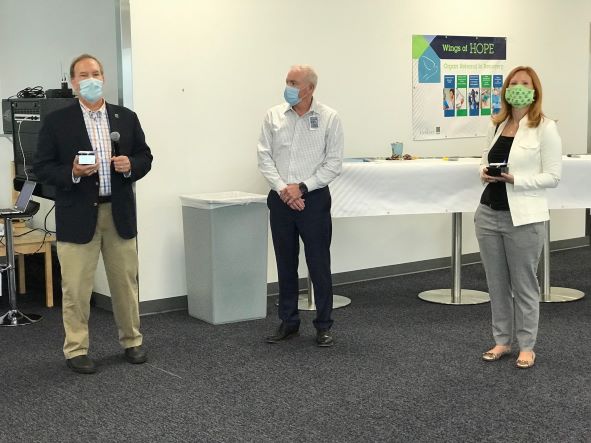 Organ donation is rooted in the idea of hope. This is something that LifeGift, an organ procurement organization headquartered in Houston, Texas, knows well. LifeGift's Ambassadors of Hope are volunteers from all walks of life who spread the importance of organ, eye, and tissue donation in their workplaces and offer hope to those on the organ transplant waiting list. 
Kristin Schaeffer is an Ambassador who works as an airport operations supervisor and customer service representative for United Airlines. When she learned from LifeGift's community engagement specialist, Kristina Ruiz-Healy, that she could bring the story of organ donation to her job at Houston's George Bush Intercontinental Airport (IAH), the Wings of Hope campaign took off. 
The campaign launched in June 2020 with a three-day virtual webinar series featuring speakers from LifeGift who shared the impact of organ donation and how United's employees could get involved in their local communities. At the end of the orientation, LifeGift challenged more than 1,000 United employees to have at least ten conversations about organ donation and encourage five peers to register. 
The webinars culminated in a socially distanced staff event held in IAH's Concourse C. Five stations were set up to guide, educate, and inspire staff members with organ donation facts and resources. 
"It's incredible how one person can save so many lives by becoming an organ donor," shared Rodney Cox, Vice President of Airport Operations at IAH, to an audience of prospective donors. "This is something I know so well. My brother was a cornea donor, and today I'm here to honor his legacy and encourage you to look for ways to inspire our community, offer hope and change lives," continued Cox. 
The first annual Wings of Hope event resulted in almost 20 newly registered organ donors, but more importantly, it opened the door for collaboration between LifeGift and United Airlines. Both organizations hope to make the event recurring and expand its reach to encourage more donor registrations.  
"Our mission is simple: We offer hope," shared LifeGift's CEO, Kevin Myer. "It's encouraging to know that people are so generous, working together to help strangers regardless of the details. United Airlines' staff really took this project on as their own, and we have been so pleased with their support and enthusiasm to work alongside us. It's such a privilege to be a part of that." 
Interested in encouraging organ donor registrations at your place of business? Visit the Workplace Partnership for Life and sign up your workplace to join a national network of businesses that supports organ, eye, and tissue donation. 
 
Volunteers of America and Kentucky Organ Donor Affiliates give back to those in need.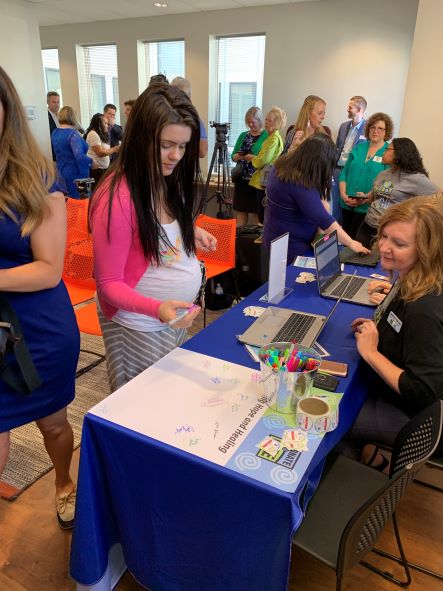 Volunteers of America Mid-States (VOA) provides services to communities in need, like at-risk youth, veterans, people with disabilities, and those recovering from addiction. Through a partnership with Kentucky Organ Donor Affiliates (KODA), VOA now helps another community in need: those waiting for organ transplants.
Since 2019, the organizations have exchanged services as part of their "Hope and Healing" partnership. Volunteers from KODA support VOA's staff and clients with services like childcare while they hold meetings. VOA staff register donors by promoting organ, eye, and tissue donation to their employees, clients, VOA Recovery graduates, board members, and other supporters and friends. As a result of VOA's efforts, more than 429 people have registered as organ donors.
"In a perfect world, you'll be asked to register for organ donation anywhere, whether you're ordering something online or checking out at the grocery store," said Shelley Snyder, vice president of strategic partnerships at KODA and executive director of Kentucky Circuit Court Clerks' Trust for Life. "However, our mission is figuring out how to get that question asked now and convince people to register now so we can help others in need."
Previously, Circuit Court Clerks asked Kentucky residents if they wanted to register as organ donors when they applied for or renewed their driver's licenses every four years. When the Kentucky license renewal period expanded from four years to eight, KODA needed to find other ways to ask residents to register as donors. 
Volunteers supporting VOA's Recovery program for people recovering from addiction heard that KODA was looking for new ways to spread the word about organ donation and saw another community they could serve. Organ donation is a special topic for them, as VOA's former Board of Directors Chairman David Fennell was the recipient of a life-saving lung transplant.
"If a courageous individual had not made the decision to become an organ donor, I would not be standing here today. My doctors were clear with me: without a lung transplant, I would not live," Fennell said. "I'm so thrilled to be able to give back in some small way by participating in this program and helping to encourage more people to become donors."  
Jennifer Hancock, president, and CEO of VOA Mid-States said the name "Hope and Healing" speaks not only to the experiences of their current VOA Recovery graduates but also to the hope that they bring to families across Kentucky. 
"Our VOA Recovery graduates are starting new, healthy, and sober lives," said Hancock. "I believe we can also provide healing for the families of organ donors who have so generously given by showing appreciation, thanks, and support."
Interested in encouraging organ donor registrations at your place of business? Visit Workplace Partnership for Life and sign up your workplace to join a national network of businesses that supports organ, eye, and tissue donation.