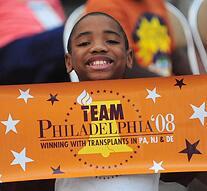 Gabriel
Kidney Recipient
Pennsylvania
Gabriel received a kidney transplant when he was only 2 years old. Years later, Gabriel continues to thrive, thanks to his donor's generous gift. He is an avid reader and creative artist. Whether drawing comics, folding airplanes, or creating origami, Gabriel can see way beyond a piece of paper. That talent helped him get picked to participate in the children's summer program at the Samuel S. Fleisher Art Memorial in Philadelphia.
Gabriel also competed in the National Kidney Foundation U.S. Transplant Games at age 8, and then again at age 10. And as part of his effort to give back, he also participated in the 2008 Kidney Walk with family, friends, classmates, and teachers. He earned his school's support by making a public presentation and submitting his story to the school's newsletter.
Gabriel has overcome many challenges. He has to remain medically mature, yet he still manages to enjoy his childhood at every turn.
Gabriel's story is courtesy of Gift of Life Donor Program, Philadelphia, PA.
Search Stories