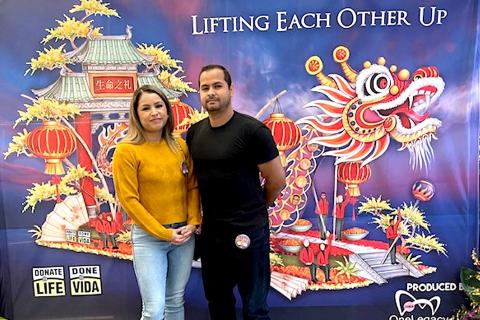 Ricardo & Yadira
Kidney Recipient and Living Donor
California
Imagine you're in your 20s, have a family and out of the blue told you have kidney disease. That's what happened to Ricardo, a Los Angeles-area animal control officer, who went to the doctor for what he thought was a "normal cold."
Ricardo recalls being both numbed by the news and overwhelmed. At a follow-up appointment in 2019, he was told his condition deteriorated and he only had 7% kidney function.
"The doctors were a little surprised because I was active and didn't feel sick," he says. He was directed to start dialysis and to get on the transplant list. His doctor also told him it could take seven to 10 years to have a kidney transplant because of the wait.
That's because more than 100,000 people are on the national organ waitlist at any one time, and 85% of those are in need of a kidney.
Ricardo started dialysis as COVID-19 hit. He was dejected, saying, "Dialysis is a bad experience that no one should go through because of the way you feel before and after."
He was told that if a family member, friend, or even stranger was a match they could donate a kidney, called living organ donation, and he would get a kidney sooner. A living family member, however, is likely to be a better match. Ricardo told his six siblings what he learned.
"They said we're willing to donate our kidney so you can live a better life," recalls a grateful Ricardo.
Ricardo's older sister, Yadira, says, "It wasn't even like should I do this or could I do this? It was just like, OK, what do we need to do?"
All six of Ricardo's siblings tested to see if they would be a match. "I was very, very grateful," he says. Yadira, as it turned out, was a perfect match. "We had a close relationship growing up and when his first son was born, I was his godmother," Yadira says. "I told him I get to name your kidney."
Yadira, a New York Yankees fan, calls Ricardo's new kidney, Derek Jeter. "We don't agree on the name though," she says with a slight smile. "He's an Angel's fan and calls his kidney Mike Trout."
A year after Ricardo started dialysis, Yadira donated one of her kidneys to her brother. The transplantation was a success for both of them. "I used to run before surgery, so I had to wait like five weeks before I could start jogging again," she says, adding "I think one of the purposes in my life was to be able to do this for my brother."
Yadira also says that the transplant hospital involved her and Ricardo in a research project that has allowed her brother to not have to take anti-rejection drugs. Specifically, the hospital is testing if stem cells taken from well-matched donors can be given to an organ recipient to avoid the need to take a lifelong regiment of medications. The approach has worked for a thankful Ricardo.
"The new medical advances going on are incredible and completely changes life," she says. "His quality of life would be different right now if we had not participated in the project. So, I hope people get exposed to what the new medical advances are going on, because it's completely changes life for the better."
Meanwhile, Ricardo says, "I feel great. I can pursue my dream career now that I'm healthy and get to spend more time with my kids and wife." Ricardo is applying to be a police officer in the Los Angeles County Sheriff's Department. "I feel healthy, like when I was in high school. It's a brand-new me."
Learn more about living donation and how it helps others get a second chance at life.
Search Stories