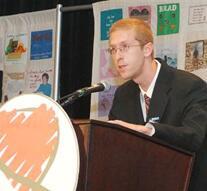 Patrick
Cornea Transplant Recipient
Michigan
Patrick spoke at the National Donor Recognition Ceremony in Washington, D.C. He also spoke several times at Gift of Life Michigan's Betty Buckley Donor Family Ceremony. He gave us permission to use excerpts from his speech.
Patrick opened by describing the beauty of the Michigan State University campus. He says, "As I experienced this beauty, from season to season, year-to-year, I was always cognizant of the fact that I am extremely fortunate. To see this incredible campus is not a blessing I take for granted.
"At the age of 5, my vision began to deteriorate due to a scar on my left cornea. Suddenly, I was no longer able to play outside with my friends. No longer able to read or play with Legos, no longer able to see the concerned faces of my family and friends. A slow shift occurred, from a 5-year-old's bright, mysterious world of endless possibilities, to a world of blurred shapes and colors. I was headed towards partial blindness, a condition that was averted by a decision, made by a couple that had just lost their son in an auto accident. Their decision to donate led to my corneal transplant, at the age of 6, and changed my life.
"Thanks to the transplant, as captain of the cross-country team, I could see the pride in my teammates' faces when we won the conference championship. Thanks to the transplant, I could be awestruck when I picked up my date and saw how stunning she looked. It's funny how sometimes what your eyes see can make your heart beat faster. And thanks to the transplant, I could see the tears in my mom's eyes when I hugged her on graduation day, wearing my gown, holding my degree. She had been right all along: less partying and more studying had made a difference.
"I feel, as I'm sure many recipients do, a drive and responsibility to use this phenomenal gift to its fullest; to use it not only to benefit my own life, but the lives of others. I studied hard and graduated with honors with a degree in psychology, and now have a job at Wayne State, training in neuropsychology, using technology to learn about the brain, and helping to gain knowledge that will someday reap rewards for everyone.
"I wish I were eloquent enough to express the gratitude I feel to my donor family. I still wouldn't know what words to use to describe the awe, respect, and appreciation for the decision they made. A decision that was courageous and selfless and made at an incredibly difficult time. I say thank you and try to use my sight and my life to touch the lives of others and change the world for the better."
Story courtesy of Patrick and Gift of Life Michigan.
Search Stories