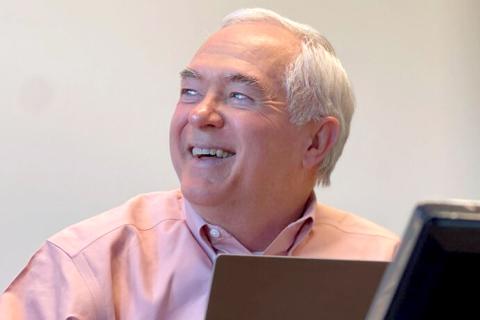 Alan
Cornea Recipient
Arizona
Alan recalls the moment he lost his eyesight for the second time. He was mountain biking by himself in the Arizona desert on a Labor Day weekend. He was having fun, until he approached a coiled rattlesnake blocking his path.
"I panicked," says the father of three. "Instead of slamming on the rear brakes, I slammed on the front brakes." He flipped over his handlebars and faceplanted into the ground. After picking himself up, he realized "I was completely blind in my left eye."
After a harrowing walk back to civilization with the aid of a Good Samaritan, Alan wound up in the hospital, eye bandaged shut. Over the course of the next year, his world narrowed. A pharmaceutical executive who logged nearly 200,000 miles of air travel a year, Alan had to stop flying, driving and biking. "I was scared," he says.
A year later, his doctor determined Alan was at risk of losing his entire vision and recommended a cornea transplantation. Alan received a cornea, thanks to a 75-year-old organ and tissue donor. The surgery was a success. The transplant along with a special pair of contacts have helped Alan to experience—and see—life fully ever since.
His surgeon refers to Alan has his "one in a million patient." That's because Alan had been given the gift of sight not just once but twice—the first, a decade earlier—also through a cornea transplant.
As a teenager, Alan was diagnosed with keratoconus, a condition that causes the cornea to bulge and vision to blur. Back then, Alan was in the room when his doctor and mother talked about possible future blindness with the condition. He lived with that fear lurking in his mind for many years.
Glasses could not correct his vision, but special contact lenses helped him to see well enough. But those were prone to popping out. A lost contact equaled loss of vision. "It was a fear factor in my traveling, and I traveled every week," Alan recalls.
Alan received his first cornea transplant in his early 40s from an organ donor. That gift allowed him to see better and get over his fear, at least until the trauma to his eye from his bike accident led to a second transplant surgery.
After receiving two different corneas over the years, Alan was determined to help others. That led him to volunteer at Donor Network of Arizona, an organ procurement organization. He volunteered for three years and then was asked to apply to be its director of tissue services. Alan's been doing that ever since. "This is the most meaningful career I've had," he notes.
Alan also continues to see the full beauty of life, which includes his family and five grandchildren and being able to get in a mountain bike ride about every evening.
If there was a takeaway to Alan's long ride, he'd say, be an organ donor, adding, "That could have the same impact as these two individuals had on my life."
By signing up as an organ donor, you could let someone else see the full beauty life offers. Register today as an organ, eye, and tissue donor.
Search Stories