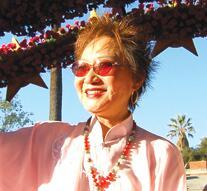 May
Tissue Recipient
Texas
As a world-class martial arts competitor and teacher, May relies on her physical skills and mobility. As she neared 60 years old, her knees began to swell after workouts. The Chinese-born athlete tried physical therapy and steroid injections with little lasting relief. Her doctor suggested an allograft transplant.
At first, May felt strange about donated tissue. But she decided it would be her best chance of resuming a normal life. She had the surgery as soon as tissue became available and made a remarkable recovery. "My knee is almost 100% where it was before," explains May. "It does not limit me in competition."
Only one year after her surgery, May went on to win two world championship medals in China. When she returned home from China, she sent her medals to Allosource, the tissue recovery agency. She requested that the medals be sent to her tissue donor's family. May recognizes that without their kindness, she would not have been able to compete.
May views her new knee as a gift and intends to keep making a difference with it.
May's story is courtesy of Donor Network West, San Ramon, CA.
Search Stories