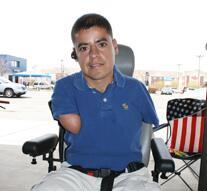 Manuel
Tissue Recipient
Colorado
Manuel's life changed in an instant when a downed power line struck him. He was only 22 when 115,000 volts of electricity went through his body. The risk of further electrical shock prevented his coworkers from being able to help. They could only watch as he suffered life-threatening burns. He was airlifted to Doctors Hospital, a leading burn clinic in Augusta, Georgia. It was a miracle he survived.
Manuel spent three months receiving skin grafts from AlloSource to heal his burns. However, he still lost both arms and legs. The physical and emotional struggle was overwhelming. "I didn't understand why they had saved my life," explains Manuel. "I didn't think I could go on."
Still, this courageous young man pressed on. After his stay in the burn unit, he was taken to The Denver Center for Extremities at Risk. The extent of his amputations made Manuel a difficult candidate for prosthetics. To help, the doctors used human bone from a donor to build him a new shoulder that could be fitted with a prosthetic. With his new shoulder and prosthetic, Manuel could once again feed himself, brush his teeth and even scratch his head.
Manuel is looking forward to improvements to his legs as new techniques for fitting the prosthetic legs become available. Yet today, because of donor tissue and prosthetics, he drives, snow skis, water skis, and owns an auto body shop.
Manuel admits that the first two years after the accident were very hard. He experienced personal setbacks but found inspiration in other amputees in his support groups. "Now I am just thankful to be alive," he says. "I want to try new things. I see life in a whole new way."
Search Stories