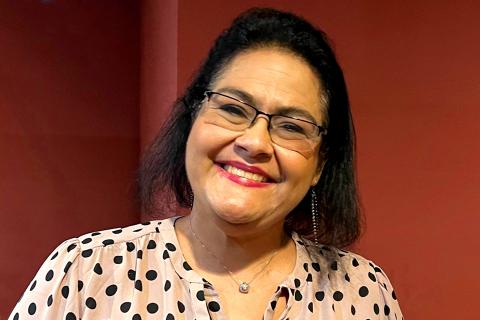 AJ
Kidney Recipient
Texas
AJ always thought of herself as a go-getter, and life always seemed to be going her way. She had friends and was loving life in Dallas. But In October 2011, like the country song, life took a turn and AJ began to lose it all. Newly separated, she went to her doctor thinking she had pneumonia. Instead, she was in congestive heart failure, and her doctor called an ambulance to rush the 39-year-old to the hospital. 
Things quickly grew even scarier. "The doctor said, 'You have 11% kidney function,'" recalls AJ. She was put on dialysis immediately. "I then spent the next 63 days in the hospital." She also had her gallbladder removed and dealt with several complications while starting dialysis.  
She left the hospital with scars and doctors' orders for dialysis several times a week. But she did get on the national transplant waiting list for a kidney. 
Then, life got even more challenging for AJ. Her marriage failed and her living situation was in flux. She needed surgery after retinal bleeding, which made it hard to see. Another side effect of her dialysis was "Steal Syndrome," which caused numbness and pain in her hands. Unable to work, she reluctantly agreed to move back to her parents' home. "It was so devastating and heartbreaking for me." 
AJ's dad let her "lick her wounds" for a week. Then he told her to stop feeling sorry for herself and start doing things to help out. "We jokingly call it country therapy," she laughs. Brushing the dog helped her regain strength in her hands, for example. That was a start. AJ told friends and colleagues in Dallas, "I'm going to be back in six months."   
But there were other struggles. Still, AJ persevered. By 2016, she was working again close to home in her family's machine shop and went to night school to get a master's degree in social work. But by May 2018, AJ decided she couldn't wait anymore and called to be taken off the national transplant list. She was discouraged, knowing that dialysis patients typically last 10 years. Her transplant coordinator talked her out of it and gave her a shot of hope.  
AJ's goal changed from getting back to Dallas to simply reaching age 50. She kept hope alive, determined to write a happy ending for an otherwise sad country tune.   
On Super Bowl Sunday 2021, AJ got a call from Houston. "We have lift off." She got a kidney transplant the next day. 
Today, AJ works in a dialysis facility as a social worker, helping others who are waiting for a kidney transplant. She spreads the word about organ donation to everyone she encounters.  
"I literally have a second chance at life," she says. She loves her new job and has financial independence. She is living on her own again, has a car, and has fallen in love. 
"I just celebrated my 50th birthday, and that's a huge milestone for me," she says. "Well, now, I'm aiming for 75 or 80, and I'm not going to stop. I'm not going to slow down." 
Thanks to AJ's courage and perseverance – and a donor's gift of a kidney – her life is now a happy song, one that's likely to play on for many years to come.
By signing up as an organ donor, you could write a happy ending for someone else. Register today as an organ, eye, and tissue donor. 
 
Search Stories