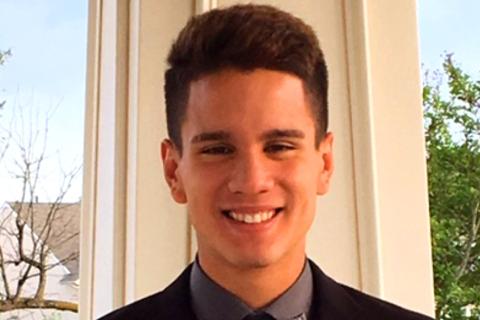 Robin "Junior"
Organ Donor
Virginia
Robin, who preferred to be called Junior, wanted to be a doctor, specifically a cardiologist.
"He said we wanted to be a doctor because he wanted to save lives," says Silvia, Junior's mother. "He wanted to be a surgeon and told me, 'My favorite organ is the heart.'"
Junior was outgoing, energetic, and loved science. He attended community college in Northern Virginia with an eye on transferring to Georgetown University.
But Junior's life didn't turn out the way he or his mom planned.
One night in late October 2017, Silvia received a call every parent never wants to get. Someone from her county's emergency services department called and said Junior was in the hospital and she better come quick "as your son is not doing well," Silvia recalls the person telling her.
Junior had fallen several stories from a parking garage. Silvia rushed to the hospital, where she was told her son had brain damage.
"I didn't hear the rest," Silvia says. "I started praying and I didn't hear anything else." Three days later, at age 18, Junior was declared brain dead. Silvia was reminded that her son signed up to be an organ donor.
Although Silvia registered to be an organ donor when she got her license, she says, "It was very different when it was my son registering to be an organ donor." At that moment, she had more questions and concerns, adding, "I didn't want anything to be removed from his body."
Regaining her composure, Silvia reflected back on a moment just two months earlier when she took Junior to get his license. Mother and son had a conversation when he checked the box to become an organ donor. Silvia told him, "You can make that decision later on, you don't have to make it now."
Junior reassured her that if something were to happen to him, he wanted to be able to save other people's lives. With that memory coming back to her, Silvia said, "Well, he wanted to save lives. So, I accepted and respected his will."
Junior donated both of his kidneys and lungs, his liver, pancreas, and heart to patients in need and his intestines were recovered for research. In two cases, multiple organs went to a single recipient. He donated tissue used to enhance dozens of lives. His gifts benefited people between ages 6 and 63.
Silvia met the 49-year-old gentleman who received Junior's heart. "I cannot describe my feelings when I met him and I knew my son's heart was in him and it was giving him life," Silvia says. "I'm very proud of my son, very proud of his vision, and he understood more than I did about the need of organ donation. He knew what he was doing."
Silvia loves to share Junior's story and has done so on radio, television and in one-on-one conversations.
"It gives me peace," she says. "I'm happy knowing that they have a piece of him and that they are still living because of Junior and his decision."
You too have the power to save lives. Learn about signing up as an organ, eye, and tissue donor.
Search Stories