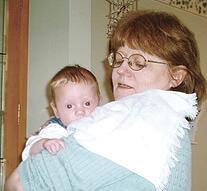 Anne
Organ and Cornea Donor
Minnesota
Shortly after celebrating her 32nd wedding anniversary, 53-year-old Anne collapsed from a brain aneurysm. As her family waited anxiously in the hospital that February, they overheard another family, whose young child had just died. They discussed donating their child's organs.
Anne had never discussed organ donation with her family. But then and there, her family decided that donation would be a meaningful way to realize some good from this tragedy.
Anne's kidneys, liver, and heart helped four people to have a future. Anne's donation of her eyes improved the vision of four people through cornea and sclera transplants. Countless others will benefit from the research of her other organs.
A year after her death, Anne's widower Ronald met Ruth.  Her husband, Curt, had also died of a brain aneurysm. Ruth, too, had donated her spouse's organs and eyes. Married in 2006, Ronald and Ruth now volunteer on behalf of organ donation.
In 2009, Donate Life sponsored a float in the Tournament of Roses Parade®. The "Stars of Life" featured transplant recipients, living donors, and family members of deceased donors immersed in a spectacular shower of stars. Each star represented all the people who make the gift of life possible.
Among the float's "Stars of Life" were 30 gold stars with  floral portraits depicting loved ones whose donations of organs, corneas, or tissue saved and healed those in need. Two of the portraits were of Minnesota donors Curt and Anne, who had transformed so many lives.
Search Stories