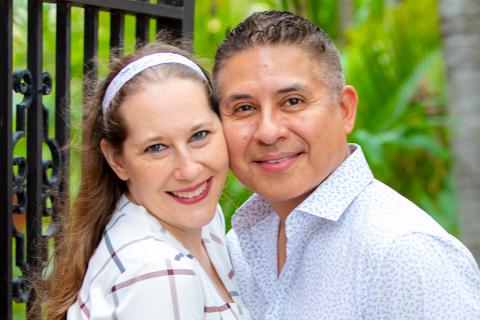 Cesar
Kidney Donor
Florida
Shortly after Monica's kidney transplant, she was surprised to see her husband walk into her hospital room. "You've got a stubborn and a strong one here," the nurse told her. Cesar should have been resting – he'd just donated one of his kidneys to Monica.

Cesar's live kidney donation to his wife was the latest chapter in a love story spanning decades. The couple had been married for 23 years when Monica's health started to fail. After having health issues with her third pregnancy, Monica was diagnosed with kidney disease and put on dialysis. Although the couple enjoyed adventures, it became a challenge to travel with a dialysis machine and bags to last the duration of the trip. They adjusted to the limitations and hoped dialysis would only be temporary. To avoid the heart problems caused by long-term dialysis, Monica would need a kidney donor.
At first, it didn't occur to Cesar to get tested to see if he could be a match. He thought organ donors and recipients had to be blood relatives. With more research, he realized that a recipient and donor could match even if they aren't blood relatives. Cesar got tested and the results revealed what he'd hoped for: he was a match for Monica.
On the day of the surgery, Cesar was more concerned for Monica than for himself. As a Marine Corps veteran, he was used to putting himself in risky situations. It was different with Monica's life on the line. His biggest concern was getting Monica's health back. "I wanted her to come out of this alive and well...That was my focus."
Ultimately, both operations were a success. As soon as Cesar was discharged, he went to see Monica. He slept on the couch in her hospital room until she was free to go home.
Before and after their surgeries, Cesar and Monica were model patients. Following their doctors' instructions would safeguard Cesar's health and help ensure the success of the transplant. As Monica puts it, "You have to be a good patient in order for this to be successful. You have to do exactly what they tell you to do, and that's exactly what we did."
Monica is doing well now. She no longer needs dialysis. For Cesar, life has largely returned to normal. He's working to stay healthy, rowing every other day, and getting his blood work done on-schedule. Cesar has to avoid certain medications and can only drink in moderation, but it hasn't held him back at all. Rather, he and Monica have been enjoying the freedom that her good health has afforded them both.
Three months after the transplant, the doctor gave them the okay to travel. The couple went on a trip to Vegas. No dialysis machine, no dialysis equipment – just two people, some shared kidneys and a whole lot of love!
Want to learn more? Get details about living donation and find resources through the National Living Donor Assistance Center.
Cesar and Monica's story is courtesy of the National Living Donor Assistance Center.
Search Stories