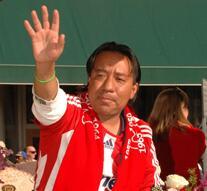 Sergio
Kidney Recipient
California
In 2003, Sergio had chronic high blood pressure and was diagnosed with end-stage renal failure. The father of two researched all aspects of treatment. "Though I knew that this was about one, if not THE, most difficult things that I would go through in my life, I learned never to give up," Sergio says. With dialysis, he was able to return to work as a warehouse manager.
"I tried not to think too much about it. I put all of my effort into my treatment, and it all went so well," Sergio says. "I was an example to other patients that it is possible to get through it, and that you must not give up."
One day, Sergio's dialysis nurse asked him to help her with a new patient. She needed him to explain the treatment process in Spanish. "I think that was when I realized that things happen for a reason," reflects Sergio. "If I could help other patients in my unit, why not do more outside the unit—since information about kidney failure and organ donation is much needed in the Latino community."
While still in treatment, Sergio became an Ambassador for OneLegacy, the organ recovery agency serving the Los Angeles area. He has also volunteered with other organizations and hospitals to promote organ donation and transplantation.
In 2005, Sergio received a kidney from his sister, Claudia. Now in his late 30s, he is grateful for his new life. "Thanks to her, I am alive today and doing what I love to do most: helping others." He rode on the Donate Life float "Stars of Life" in the 2009 Rose Parade®.
Sergio's story is courtesy of OneLegacy, Los Angeles, CA.
Search Stories