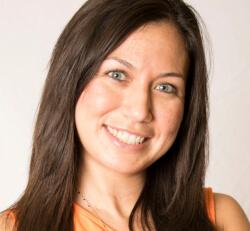 America
Kidney Recipient
New Mexico
America stands in the kitchen of her family's restaurant, helping her mother make tortillas and fresh salsa before the dinner rush. In the dining area, America's father and younger brother have a quick bite to eat.
They chat happily together about plans for the future. America's older sister is due to have a baby any day now. And America is about to finish her last semester of college and get her business degree.
Just a few years ago, this scene would have been unimaginable. America's first kidney transplant—which she received at age 13—begun to fail. She became ill, and her parents were frightened for their daughter's life.
"They were so worried for me," says America. "They were starting their restaurant, and I know they kept their concerns about the business to themselves. I was too sick to do anything to help. It was hard on all of us. I never knew if I'd have another day with my family."
America had been on the transplant waiting list for four years. She and her family all knew that there was a chance she wouldn't receive a second kidney transplant in time. As they drove to a transplant center for one of her regular checkups, they discussed dialysis again and what to do if the worst happened. While they were at the center, America's phone rang. A kidney was available, right then and there.
"We went for a checkup and came home with a kidney. It was a miracle," says Luz, America's mother.
Se hizo posible: La Sonrisa de América
Today, America is healthy and back helping at her family's restaurant. She wants to put her degree to good use to help the family's business prosper. America's regular customers, her church family, and her community are thrilled to have her back. 
America, who is bilingual, often talks to others on the transplant waiting list. "It's an honor for me to talk about my transplant," she says. "Maybe I can lighten the load that they carry inside." 
America's family speaks out, too, about donation. "It's important for people to know about organ donation and signing up. A lot of people don't understand," says Alfonso, her father. "I've been a registered organ donor since I got my driver's license. And I call on all of us to help one another and save lives."
"This kidney is really many gifts in one," says America. "The most beautiful gift is that I can share the love of my family for one more day."
Search Stories