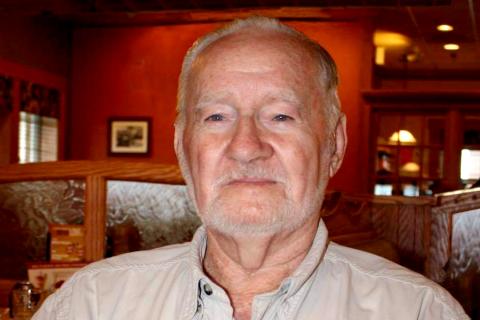 Cecil
Donor
West Virginia
At his death in May 2021, Cecil made history when he saved a woman's life through a liver donation and enhanced the lives of more than 20 other people by donating tissue and skin. Remarkably, the West Virginian coalminer was 95 years old when he died, making him the nation's oldest organ donor.
"If Cecil could be a donor at 95, there is no reason for anyone else not to step up and take the step to be an organ donor," says Bill, Cecil's son-in-law. 
Cecil lived a notable life. Part of the Greatest Generation, he served as an Army corporal in the Pacific during World War II, before returning to work in West Virginia coalmines. He eventually started a coal-hauling business and even worked for a West Virginia governor. An avid storyteller, Cecil also had a family who adored him, including three grandkids and six great grandchildren. 
"He's my hero," notes Cecil's daughter, Sharon. "My dad was a kind-hearted man, a very giving person and everybody loved him." 
While Cecil did not share his donation status, his family said he wanted to donate his organs just as Cecil's son, Stanley, did after his death in 2010. Stanley improved the lives of 75 people through tissue donation, along with two individuals by cornea donation. 
"Cecil was proud of the fact that his son could give life after he passed on," observes Bill. So, shortly after Cecil suffered a brain hemorrhage and was declared brain dead, the family knew what Cecil would want. "We all agreed immediately," Bill adds. 
After his passing, a woman in her mid-60s received Cecil's liver. The donation allowed the woman to enjoy her 10 grandchildren and live without pain. 
"My family and I are eternally grateful," the woman wrote in a letter thanking Cecil's family, for "your selfless decision to donate….so I can live a normal, fulfilling life."
On Feb. 14, 2022, National Donor Day, the West Virginia legislature passed a resolution recognizing Cecil as the nation's oldest organ donor, and encouraged others to follow his example in order to help the 100,000 individuals in the United States, including 500 West Virginians, awaiting life-saving organ transplants. 
"Everyone should be a donor like my dad because it could help save someone else's life," says Sharon. 
Are you a lifesaver? Register today as an organ, eye, and tissue donor. 
Search Stories