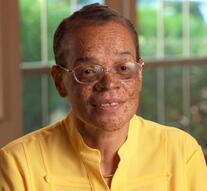 Roxanne
Heart Recipient and Donation Advocate
New York
Roxanne is a dynamic force for donation advocacy. On this day, she and her son, Kellen, have set up a display table at a senior fair to spread the word about registration to older Americans.
"The first thing people over 50 say to me is...'I'm too old. No one would want my organs.' Nothing could be further from the truth. You're never too old. Last year, someone in their 90s was an organ donor."
Roxanne's passion for donation comes from the heart—her new heart. Only a few years before, Roxanne had learned that she had heart disease and that she would need a transplant. After that, Roxanne's days were spent in and out of hospitals. She was hospitalized for 104 days, trying to maintain her strength and waiting for the gift of a heart transplant.
Finally, after many failed matches, she received her heart transplant. It was a bittersweet occasion; she learned that her donor had been a young man, almost the same age as her son, Kellen. That was the day Roxanne decided to devote her life to donation—and honoring her donor.
Today, she attends events of all kinds, telling the story of her donor and how he saved five lives. She even met her donor's family on a television show, and they urged her to continue to spread the word.
To date, Roxanne and Kellen have signed up more than 1,500 people. Roxanne's goal? "I want to sign up the most people in the United States," she says, smiling. "That's my goal."
Search Stories