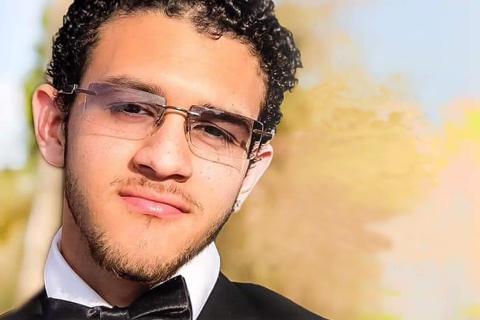 When Courtney got a call from her son's high school principal, she tried not to panic. "Michael's been in a motorcycle accident," was all she heard. She was able to look up the location of Michael's phone, but it wasn't headed to the nearby hospital. It was moving rapidly toward a level four trauma center—alerting her to just how severe the accident was.  
Courtney rushed to the trauma center, where she was escorted into a family waiting room. The first real update she received about the accident was reported on a TV in the room. It was surreal, she said, to see scenes of his mangled motorcycle and a single shoe. 
Family and people from the school began to pour in as they waited for the doctors. "And yet all those people…they couldn't do a thing to help. I knew at that point that a piece of me was gone." Finally, Courtney and Michael's father were taken to their son's hospital room. "There was my beautiful boy. He looked like he was asleep," she said. She pulled up her chair to his bed and held him as they waited for the doctor. 
The news was heartbreaking. Michael had had two bilateral strokes at the base of his brain, which caused severe swelling. The doctors had been struggling to keep his body from shutting down. It was then that Courtney knew Michael was not leaving the hospital. 
And that's when she brought up the subject of organ donation. Michael had signed up as an organ donor when he had gone for his motorcycle license. He was very deliberate about it—saying yes to every donation question. 
"I knew right then that this torture for us was going have to be a blessing for others. So, let's get the organ donor process going." Courtney told the doctors. "It was what Michael would have wanted." 
It took about four days for Michael's organs to be matched to potential recipients. He had one of the rarest blood types for organ donation—and the list of people waiting was very long. The day of the transplant surgery, the hospital held its first "Honor Walk" for Michael. Friends, family, hospital staff lined the halls from Michael's hospital room to the operating room to say their final goodbye. 
"It was a myriad of people. Overwhelming. Amazing. There really isn't a word for it," said Courtney. "It was one of those situations where you realize that we don't really have a beginning and an end, we have a semi-colon. So much of life has continued, all because Michael said yes to organ donation." 
Michael donated all eight transplantable organs that day—and transformed even more lives with the gifts of his corneas and tissues. 
Today, Courtney turns her grief into positive action by speaking about donation every chance she gets—to hospital professionals and physicians, veterans, to teenagers, to families. "I said to our local organization, send me wherever you need me. It's part of my life, but it transforms others. It's how I keep Michael in my heart." 
Courtney has also connected with some of the people who were saved by Michael. She has a letter that she cherishes from the recipient of his liver. "Michael is the only reason I am lucky enough to be alive," it reads. "It is difficult for me to fully express my gratitude. He has brought me and my family joy. I will be forever thankful and I will always keep Michael and your family in my prayers." 
She has also been able to meet the man who received Michael's lungs. "My heart knew that Michael was there. I felt his spirit. His essence of life." 
"These people are enjoying their families, their lives, their community, because they can share a life with my son. I mean, what greater gift could there be than to know you changed someone's life? What greater honor than to know you birthed a hero?"
Want to leave your own legacy of hope and healing? Learn about registering as an organ, eye, and tissue donor.
Michael and Courtney's story courtesy of Nevada Donor Network.
 
Search Stories