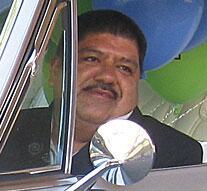 George
Heart Recipient
Arizona
George is a car enthusiast and organ recipient.  He put his passions into full throttle when he customized a '67 Chevy Impala dedicated to his second chance at life.
In order to promote organ and tissue donation in his community, George spent more than two years perfecting the car. He named it "Second Life," which is painted blue and green and adorned with the Donate Life logo. The number 213 is painted on the back of the car. George was the 213th patient to receive a heart transplant at University Medical Center in Tucson.
George contracted rheumatic fever as a child, damaging his heart. After graduating from high school, he was placed on the national transplant waiting list. Less than a year later, in December 1989, he received his new heart.
Ten years later, he was diagnosed with renal failure. He spent three years on dialysis before receiving a kidney transplant in March 2003.
George's story is courtesy of Donor Network of Arizona, Phoenix, AZ.
Search Stories