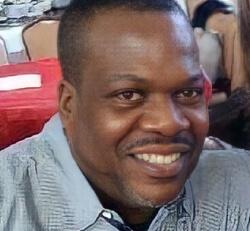 Glenn
Kidney Recipient
Pennsylvania
Epsom salt soaks did not stop the swelling in Glenn's legs, and his daughter was worried. It had been two weeks, and online searches about potential causes pulled up scary results. A trip to urgent care brought answers but no comfort – at only 43 years old, Glenn had crisis-level hypertension.
From the age of five through early adulthood, Glenn stayed in peak shape as a competitive boxer. His whole family was active in the boxing world, and he was always training alongside his cousins. But, with time, things changed – Glenn got older, prize fights became a thing of the past, and his fitness level slipped. Mild hypertension had quietly intensified to a lethal level. Glenn's blood pressure was so high for so long; it had destroyed his kidneys. On the day he went to urgent care, they were barely functioning.
Glenn started dialysis within a week and was put on the transplant waiting list soon after. He continued volunteering as a boxing coach for South Philly youth, even though his depleted kidney function forced him out of the ring. With a healthy diet and more moderate exercise, Glenn was able to take control of his blood pressure, but the damage had been done.
His 3-year-old son noticed the decline when Glenn was unable to keep up with him at the park. He said, "Daddy, you used to run with me; why aren't you running with me?" Glenn was alive, but without a kidney donor, he would spend the rest of his life on dialysis – and on the sidelines.
After six years and 23 days on the transplant waiting list, Glenn got the call about a potential match. It was the night before his son's Sunday school class would celebrate pajama day. His son woke up early, too excited to sleep, and at 5:30 am, Glenn had to give him the best bad news imaginable: "I'm sorry you're not going to pajama day, but Daddy got a kidney."
Glenn had one last dialysis session before heading to the hospital. He tried to contain his excitement and relief in front of the other patients he had come to know over the years, but they told him, "Let it out. We're happy for you." Glenn was overwhelmed with emotion: he felt blessed to have found a match, but for these friends, the uncertainty and desperation of life on the waiting list would continue.
Only a week after receiving his new kidney, Glenn was up and walking to the grocery store near his house. Seven months post-surgery, he is already volunteering at the gym again, but now he's got a new edge: "I train some 21-year-olds, 22-year-olds. Every once in awhile, they like to talk trash and say, 'You can't do nothing coach.' Now, I can get in the ring and do two rounds and show them I've still got moves!"
Glenn is so grateful to his donor and his donor's family for saving his life. He says it is a blessing to get to see his son grow up, and to have a chance to train him in the art of boxing just like his uncle trained him 45 years ago. If Glenn's son is anything like his dad, he is sure to have a fighting spirit.
Every day, 17 people on the transplant waiting list die from organ failure. You can help – sign up as an organ, eye, and tissue donor today.
Search Stories