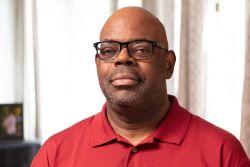 Dan
Kidney Recipient
New Jersey
After battling advanced kidney disease for six years, Dan got a life-saving kidney through living donation — a process that is helping to expand the supply of kidneys and livers available to more than 100,000 people desperately waiting for an organ transplant.
"Molly is my angel," exclaims Dan, a father of three boys, one of which plays in a travel soccer league with a teammate who lives in nearby Pennsylvania. That teammate's mother, Molly, was willing to donate one of her kidneys as a living organ donor to Dan.
Ultimately, she was not a match for Dan. However, the two learned about paired kidney donation, a process that would still allow Dan to receive a life-altering organ.
Paired donation involves four people, two of whom are healthy and who choose to donate to two other people who receive the gift of living organ donation.
"Molly donated on my behalf. So, she didn't donate to me, but to someone she didn't know, who was a proper match for her kidney. What that did was move me to the top of the list." Because of Molly's "selfless act," Dan got a matched kidney right away from a living donor in Arizona.
Dan says the new kidney transformed him and gave him "a new lease on life."
Living donation is a viable option for those in need of a kidney, part of a liver, or certain other organs and tissues. While most transplants are performed thanks to organs donated by deceased donors, demand for those organs outstrips supply. As a result, more than 100,000 people wait for an organ and 17 of those people die each day. 
Living donation opens the possibility to more people receiving life-saving organs. Living donation is typically safe for the donor. Meanwhile, paired donation is yet another way to provide those waiting on the national transplant waiting list with the gift of life.
How Living Donation Saved Dan's Life
Both Dan and Molly are doing well today. And Dan is thankful not only that he can be there for his boys and his wife, but also to be rid of kidney dialysis that took "a toll" and "wiped me out," he says.
Dan also is committed to recruiting more living donors – especially for Black recipients. Typically, Black recipients are more likely to receive kidneys from deceased donors. Yet research shows that those who receive organs from living donors have better outcomes than those who receive deceased donations, making this work vital.
Now, Dan and Molly are back on the sidelines cheering their kids on.
Learn more about living donation and how it helps others get a second chance at life.
Search Stories