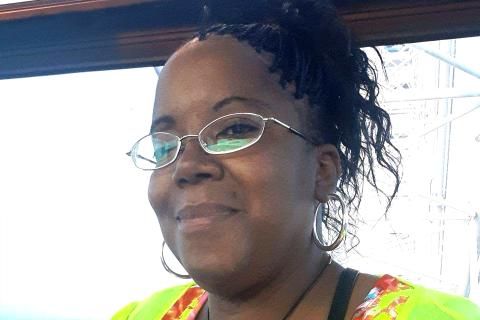 Aretha
Kidney Recipient
Maryland
Aretha remembers her doctor saying she needed to go on dialysis. Uncontrolled diabetes and hypertension threatened to shut down her kidneys. But the school bus attendant from the Maryland suburbs of Washington, DC, was fearful of dialysis.
She avoided it. Years earlier, her father died from a massive heart attack in an elevator on his way to receive dialysis, and Aretha's mother was on dialysis for 12 years. She saw what her mother went through before she passed away in 2010.
"I saw how depressed my mom got," notes Aretha. "And on the days she had dialysis, she came home and just slept for hours and hours. I did not want to go through that."
Instead, Aretha tried to slow down her kidney failure by getting gastric bypass surgery in 2012. The surgery delayed the kidney failure for a year or so, but the high-protein diet she was on put additional stress on her damaged organs.
"I fought it for a hot minute," says Aretha, who put dialysis off for a few more years until 2019. "I heard a little voice telling me you can do it, you gotta do it. It was my mommy."
Aretha started dialysis three days a week, for nearly four hours at a time, and was immediately placed on the Waiting List for a kidney transplant. She was determined not to let her fears get the better of her. Aretha admits she swallowed hard when told it could take seven years before she found a match for a kidney.
"Every day, I walked into that dialysis center, I prayed for a new kidney."
"I refused to get tired," she says. "When I got off the dialysis machine, I went home and worked. I did whatever I had to do to stay awake." Aretha even came out of retirement and got a part-time cashier's job. "That's all I kept in mind, I gotta keep moving."
Three and a half years later, Aretha received a kidney transplant.
"Like my mom always said, no prayers go unheard. You may not get it when you want it, but eventually you'll get it."
One year after her transplant, Aretha says, "I feel great." She looks forward to getting more information about her donor. She wants to thank his family and say, "Thank you for giving me another chance at life. And I'm very sorry for the loss of yours. And I will do everything in my power to make sure that their gift does not go in vain."
Aretha continues to work part time and stay busy. "Keep going. If you lay down, you'll stay down. And I refuse to lay down until He tells me to."
Aretha encourages everyone to consider organ donation. "Life is a gift," she says. "Gifts are meant to be given if someone has another chance at life. Don't be afraid."
You can save or improve the life of someone in need of a transplant. Learn about signing up as an organ, eye, and tissue donor.
Search Stories