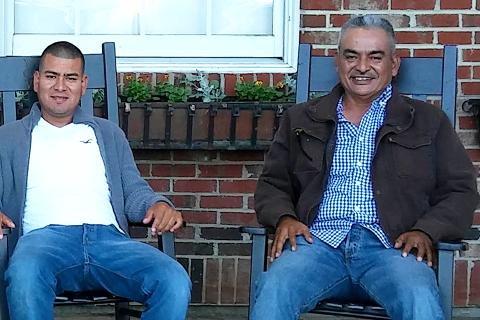 One summer night on a Maryland highway, the supervisor of a road crew was showing the ropes to his new workers. But at that moment, danger came barreling down the road, and the string of orange safety cones could not stop a drunk driver.
The supervisor was hit. Still alive, he was medevacked to Baltimore's famous Shock Trauma Center.
That man, Walter, had a wife and seven children. He was also known to his family and friends as a giver. "Whenever someone needed something, whether his children or strangers, he would be there at the drop of dime," says Walter's daughter, Desiree.
 
Coming from Guatemala, the heavy-equipment operator always felt lucky to have settled in Maryland, to do what he loved for a living, and to raise a family. "We were very fortunate compared to other people," Desiree says. Her father wanted his children to appreciate what they had and to learn the gift of giving to others less fortunate.
She recalls how one year, before Christmas, Walter asked his children to gather any toys and clothes they no longer used. The family then donated them so other families in need could have a Christmas.
She also remembers holding vigil with her family at Shock Trauma in July 2017 when doctors determined that Walter was brain dead. Desiree's mother told hospital personnel that her husband was a registered organ donor. He was always very proud of that and encouraged his family members to do the same. So, when the time came, there was no question they would donate Walter's organs to help others.
Today, Desiree counts all the gifts she and her family have received from her father's organ donation: 
Knowing that the man who received Walter's liver and the woman who got his kidney are alive and well today. 
Striking up a "beautiful relationship" with the man who had liver disease and is able to continue living. "He is a big part of our life," Desiree says. 
Seeing all her family members become organ donors due to Walter's encouragement and his actions.
Being able to forgive the woman who killed her father, as Walter "always forgave people," giving his daughter his gift of forgiving,
Helping her heal by understanding that her father's organ donation provided someone else a second chance at life. 
"Even though we lost a husband, father, grandfather and a friend, the heavens gained an angel," Desiree says. 
By signing up as an organ donor, you could give others a second chance to live. Register today as an organ, eye, and tissue donor. 
 
Search Stories