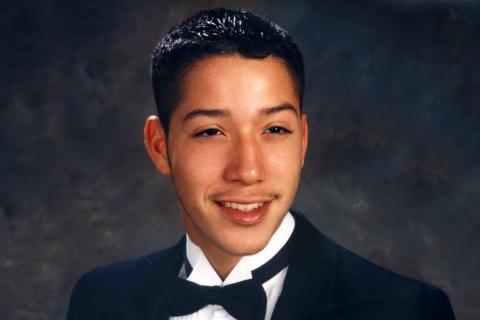 Robert
Kidneys, Liver, Heart, and Pancreas Donor
New Jersey
The former captain of his high school soccer team, Robert, came home one weekend from his first semester in college and complained of a headache. That Saturday afternoon, the 18-year-old had a seizure. He was rushed to the hospital and his parents were told he had a brain aneurysm. He had surgery to stop the bleeding. It was touch and go for a few days. But on Thanksgiving Day, the neurosurgeon told Robert's parents that their son had become braindead.
His mother, Maria, couldn't make sense of it. Robert was young, vibrant, an athlete. "He cared about people," says Maria, adding that his dream was to work with the United Nations.
While she was grappling with the news, someone mentioned organ donation.
"We never heard about organ donation," recalls Maria. "I went crazy at the moment. I said no because I didn't have an idea. As a mother, knowing your son is leaving you forever, it was hard."
It was her husband who convinced her otherwise. "I thank God that I said yes as Robbie was able to save five lives."
A man from Long Island received Robert's heart, a gentleman whose family grew very close to Robert's family. Another man from Cape May, NJ, received one of Robert's kidneys and his pancreas. The two families would get together annually for several years. A California man received Robert's other kidney. A man in Virginia received both of Robert's lungs.
"His life was not in vain, he did something," says Maria. "I'm so happy that all the recipients were able to live a bit more to see their grandchildren, get married, or have kids. I feel very, very proud of Robert until this day."
Robert's caring spirit lives on in so many others, including his mother, who has become a huge organ donation advocate, working with NJ Sharing Network. She's been active in her community, talking about the importance and benefits of organ donation. Maria counsels Spanish-speaking family members who've lost a loved one, is involved in walk-a-thons, fundraisers, awards ceremonies, and other activities that both remember her son and raise awareness for organ donation.
After 25 years, Maria is thankful for meeting and connecting with so many people as a result of her son's and her family's selfless decision of giving others life.
"It has helped us to heal because we are so involved with others," says Maria. "He left me a legacy and he left me work to do until the last day that I'm in this world too."
You too can leave a legacy long after you're gone. Learn about signing up as an organ, eye, and tissue donor.
Search Stories