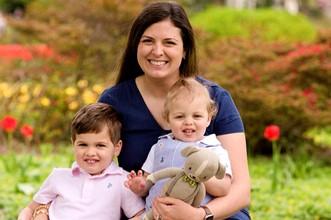 Danielle and Jonah
Maryland
When Danielle and her husband, Sean, took their two-month-old Jonah in for a checkup, they never expected that their world was about to change. 
"You're headed to an emergency room today," their pediatrician told them. "Something is wrong with Jonah's liver. It's likely he's going to be in surgery." 
The rest of the day was a blur of lab tests, medical explanations, and scrambling to prepare for a hospital stay. Information was barely registering, but Danielle remembers that the doctors were discussing "BA" – biliary atresia. A rare neonatal disorder, BA is caused by a blockage in the tubes that carry bile from the liver. It occurs in only about 1 in 15,000 babies and has no known cause. Jonah was one of the very unlucky few. 
That day began the story that Danielle calls "Jonah's Journey." While BA can cause a liver to fail, a treatment known as a Kasai procedure can delay the need for a transplant. They were told that it might help Jonah, and that it must be performed when the infant is between 7 and 9 weeks old. Jonah was at 8 weeks – a small victory. 
In the hospital, Jonah's first surgery confirmed that he had BA. Then he had to undergo the Kasai procedure. At first, it seemed to be working. His lab numbers were improving, and he was able to go home. But just 48 hours later, fever and infection set in. Jonah was soon back in the hospital, being treated with antibiotics. 
The rest of that summer was a cycle of improvement, then infection. Worse yet, the nation was on lockdown because of the COVID-19 pandemic, and hospitals only allowed one visitor at a time. Danielle and Sean kept in touch online, one in the hospital, the other with their older son, Caleb, at home.
For three months, the family waited to see if the Kasai procedure was a success. Unfortunately, it wasn't. Now the only option was a liver transplant — and Jonah was put on the transplant waiting list. 
But while Jonah was being evaluated for a transplant, the doctors had another suggestion. They began to discuss whether Danielle or Sean might be a living donor for their son. Just a small portion of the parent's liver would be transplanted. If the transplant was successful, the liver would grow to normal size in both the recipient and the donor, a process called liver regeneration. 
The couple had never heard of living donation before – "All I knew about anatomy came from dissecting a frog in school," says Danielle — but they were immediately on board. "When we learned that we could be living donors, it was 'how fast can we make this happen?'" 
When the results came in, the decision was made. Danielle would be the donor, and the transplant surgery was scheduled. "It was such a relief!" says Danielle. "They'd have to take less of my liver; it just lined up and fit better. Liver Tetris!" 
Still in the midst of the pandemic, Danielle, Sean, and Jonah were only able to be together before the surgery. Sean stayed separately with Jonah after the transplant was complete. When Danielle woke up in the ICU, she remembers asking how it went. "He's doing well and you're doing well," was all she heard before falling asleep again.
Later, there were more details. Jonah's liver had been worse than they knew. It had been the right time to do the surgery. He remained in the hospital for almost a month and had to have another surgery, but Danielle recovered quickly. In just five days she was able to go home. And while she had to take time to heal, within a few weeks, she regained her strength. 
Finally, the whole family was on the mend. On one visit, Danielle saw Jonah alert and smiling. She knew then, even past all the tubes and the monitors, that their baby boy was going to be okay. And soon, they were home and a family again: Jonah, his big brother Caleb, mom, and dad. 
Today, there's so much that Danielle and Sean want to share about their experience. "Living donation saved Jonah's life," says Danielle. "But it also changed our whole lives. As a living donor, you live to see the good you can do, with no expense, no harm to yourself. We don't talk about it enough." 
What does Danielle want the world to know about living donation? "Do it!" she says. "Know the power that you hold. You can literally give life." 
By signing up as an organ donor, you could give others a second chance to live. Register today as an organ, eye, and tissue donor. 
Search Stories