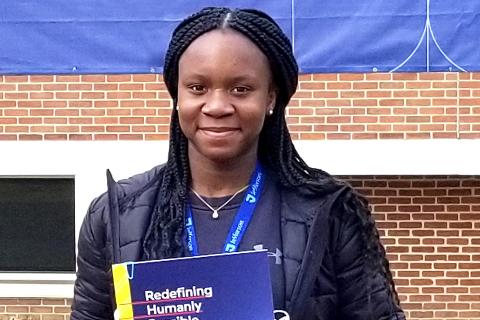 When Onyi was just five months old, her family brought her from Nigeria to the U.S. on vacation. What was supposed to be a family time together turned dire — Onyi became terribly sick. She was diagnosed with biliary atresia, which meant her liver was failing. Doctors warned her family that she needed a kidney transplant and should remain in the U.S. It was a matter of life and death. 
Fortunately, just five months later, baby Onyi received the gift of a liver transplant. "Getting the call was joyous," recalls her father, Fidel. "It was so wonderful. Our family and friends were so happy. I believe God had done it for us."
Onyi recovered quickly and remained healthy. Then, at the age of six, she received an invite she'll never forget. She was invited to join a team of "transplant kids" from her hospital at the Transplant Games of America. 
"About fifteen or twenty of us went, and it was so great to be in a community with this shared experience of donation. I'm around other people who understand my story. They all have had transplants or are there from donor families. They have the same scars as me."
At the biannual Transplant Games, members of the donation community — recipients, donor families, caregivers, professionals, and more — join together for a celebration of life. Throughout the week, teams compete in athletic and recreational events. 
During her first trip to the Games, Onyi chose track and field as one of her events — and she's been "running for life" ever since. She's earned medals and even become a sprinter in high school. As a runner, she also became, literally, a poster child for donation. "At the Delaware DMV, you can still see a poster of me at the Games," she says.
But it's her work as a donation advocate that keeps her motivated and running strong. Onyi often speaks to raise awareness and spread the story about donation — at school, at media events, commencement speeches, even at the governor's office. 
"When I tell my story," she says, "I see people's faces change. They say 'Oh, now I see why I should consider this. Now I see why it's a good cause.' I'm living proof that organ donation works."
While Onyi and her family haven't heard from her donor's family, it doesn't stop them from recognizing the gift they gave. Recently, Onyi and her family celebrated her 17th "transplanniversary." They had a gathering at home with pizza, photographs, and prayers for her donor and the donor's family. 
"If I could talk to my donor, I would say I think about them a lot, that I love them, and I would tell the family that I hope it would ease their pain, knowing that a bit of their child or loved one is in me." 
What's up ahead for Onyi? She plans to keep running, studying, speaking, and advocating — continuing to spread the story of the power of organ donation, through her actions and her words. She also hopes to become a doctor to give back to the community, just as the doctors and nurses helped her and her family so many years ago. It's her thanks for the run that almost didn't happen.
Search Stories