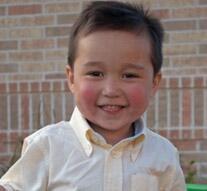 Nicholas
Liver Recipient
Texas
Nicholas loves riding his "gator" and his bike, playing soccer and gymnastics, and being in the swimming pool. His family loves the fact that he can enjoy all those things—and that he is alive.
At the age of only 8 weeks old, Nicholas was diagnosed with biliary atresia. Biliary atresia is a life-threatening liver condition. At just 4 months, he received the gift of a liver transplant thanks to a 6-year-old girl and her family.
Nicholas' mother, Heather, volunteers with an organ procurement organization in Houston called LifeGift. When she spoke in both the Texas House and Senate to urge passage of the Uniform Anatomical Gift Act (2006), Nicholas was with her. When the act passed in Texas and the Governor signed it into law, Nicholas and Heather were once again present. They bore witness to the way transplants can save lives, as well as the compassion of the donors and their families.
Nicholas' story is courtesy of his mother, Heather.
Search Stories