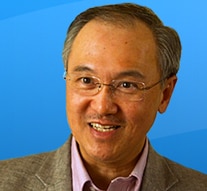 Kelvin
Liver Recipient
California
For many years, Kelvin knew that he was living with a potential killer. Like many other people of Asian descent in the U.S. (as many as one in ten), Kelvin had a form of hepatitis—a virus that attacks the liver. Doctors monitored his condition, and for almost 20 years he was stable. But one day, that all changed. "I was at work, and began throwing up blood," he remembers. That's when he discovered that he had end-stage liver disease.
Kelvin was placed on the transplant waiting list. He had only about six months to live. As his condition worsened, he began to fear the worst. Then, after four months of waiting, he received the call. "I was so excited, because it gave me hope. Hope to see my sons grow up and spend more time with my wife and family."
With his gift of life, Kelvin has recovered his health and realized his wish of seeing his two sons become grown-up men. Today, his family remains close. His sons are also registered organ donors. They remember how they nearly lost their father. Kelvin counsels other Asian Americans who are in transplant programs.  He also helps some with translation.
"Without the transplant, I would have died 15 years ago," says Kelvin. "Now I treasure every day, I love my wife, my kids, my family even more. Every day is a new day for me. Every day is a thankful day for me. And I really appreciate the new life that I have been given."
Kelvin Yu, Liver Recipient
Search Stories