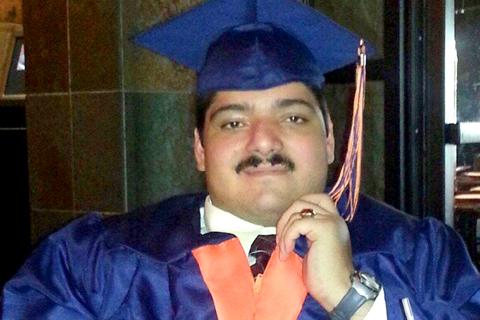 Estevan
Organ Donor
Texas
Rosie was looking forward to the birth of her son. She had a healthy pregnancy, and everything was going well. But when Estevan was born, Rosie learned that life ahead would be tough for both of them.
Estevan was born with spina bifida, a rare birth defect that happens when the spinal cord doesn't close properly in the womb. The condition can cause fluid to build up in the brain, learning difficulties, and many other challenges. Estevan would also be paraplegic, unable to walk and confined to a wheelchair.
The doctors had more hard news for Rosie. "They were very sweet but very frank, too. They told me he would grow up, but that I would outlive my son." With so much stress on the body, the normal life expectancy for a person with Estevan's condition was about 27 years.
Rosie, her family, and friends made sure that Estevan had the best quality of life he could enjoy. He loved school, swimming, and big family dinners. "We're born and raised cowboys," Rosie explains. So Estevan's life on their Texas farm also included horseback riding, camping, cowboy hats, and a love for the music of George Strait.
Estevan began experiencing seizures in adulthood. He suffered a massive seizure at a hospital that left him brain dead. He passed away at age 22. Rosie knew, at that point, that she wanted Estevan to live on as an organ donor. He donated his kidneys, liver, and heart — saving four lives.
Shortly after he was gone, Rosie put together a short biography about her son with a photo. She sent it to the donation organization to share with those who received his donations. Ultimately, she received a note from his liver recipient and a letter from the gentleman who received Estevan's heart, who wrote:
"Thank you for sharing those special details about Estevan. I believe that he and I have many things in common. Much like your son, I am just a simple country boy — I love all things country as well."
"At the time of my transplant, my future was grim. Your son's gift gave me my life back, and I will be forever grateful.  I want you to know that your son does live on through me. Please know that I have every intention of taking care of and preserving this precious gift for as many years as the good Lord allows. It was not just for me but for my family as well, whom I love more than words can express."
Rosie was thankful to receive these words of gratitude from two of Estevan's recipients. She hopes to hear from the others.
"I just want everybody to know that Estevan was the best child anybody could have. He never met a stranger. He was an angel and a gentleman. It was an honor being his mother."
Rosie hopes more people learn about the priceless gift of donation and talk to their families.
"We were created to be good and to help our fellow man — and organ donation is right up there in helping. This is the final gift we can offer."
Learn more about leaving the gift of life after you're gone by registering as an organ, eye, and tissue donor.
Estevan's story is courtesy of the Texas Organ Sharing Alliance.
Search Stories