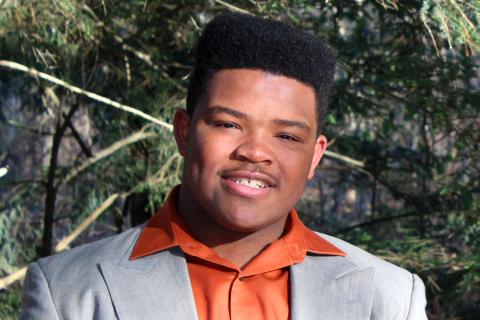 Dalton
Organ Donor
New York
It was a Monday afternoon when Dexter Criss got a call from the hospital. His wife, Barbara and his son, Dalton, who was less than one week from starting college as a freshman, had been in a terrible car accident. At first, it seemed that his son would be okay, and his wife was in more critical condition. But as the hours ticked on, the situation shifted.
That night, says Dexter, it seemed that "my boy, who had just turned 18, was going to die."
Dalton suffered a traumatic injury to his brainstem, and was on artificial life support. While he was in one hospital room and his mother was in a coma two doors down, his father spoke to an organ donation representative. The representative showed him Dalton's driver's license.
Seeing that his son was a registered donor made Dexter smile for the first time since the accident. He remembered how Dalton, at age 15, researched organ donation to make sure he signed up when he got his license.
After that, his father knew what to do. "We were going to carry out Dalton's wishes."  It gave a sense of purpose to this tragedy. It was not just going to be the end for Dalton — it was going to be a transition.
Friends and family began visiting the hospital to say goodbye to Dalton. It was then that the donation representatives suggested an Honor Walk — a ceremony of respect where people gather in the halls of the hospital as a donor is moved to the room where the recovery surgery begins.
Knowing that Dexter directed several gospel choirs, one of the representatives suggested he invite choir members to sing during the Walk. "How many can I bring?" he asked. "Bring them all," she replied. With tears of sorrow and joy streaming from his eyes, Dexter said, "Okay, but you asked for it!"
The Honor Walk was scheduled for Thursday. That morning, so many people arrived that they had to extend the procession to wind throughout the hospital. As Dalton's family escorted him from his room, to his mother's room, and down the hospital halls, the combined choirs followed, their voices filling the halls. Two to three hundred people — classmates, family friends, and hospital workers — lined the walls for Dalton's journey.
Dalton saved and enhanced the lives of more than 50 people that day. He donated his heart, liver, corneas, kidneys, intestines, and tissues. For his family, the walk never ends, and the journey of healing goes on. To this day, Dexter hopes he can connect with the heart recipient to be there when Dalton's sister, Danielle, gets married.
Dexter, Danielle, and Barbara, who is now mostly recovered, want the world to remember their son and baby brother as the kind of person who was a gentle giant, loved people, and was very popular with everyone. A person with a gift for reaching out and connecting. Dalton's big smile was contagious.
"Dalton believed that the world could get better, and he believed that the world could get better through him as well." Dalton was right. As an organ donor, his life continues to be a gift to be honored. As he said is his high school senior speech, "They made something out of me."
More than 100 lives a day are saved through the generosity of organ donors and their families. Whose life could you save? Register today as an organ, eye, and tissue donor.
Dalton's story is courtesy of The Center for Donation & Transplant in Albany, New York.
Search Stories