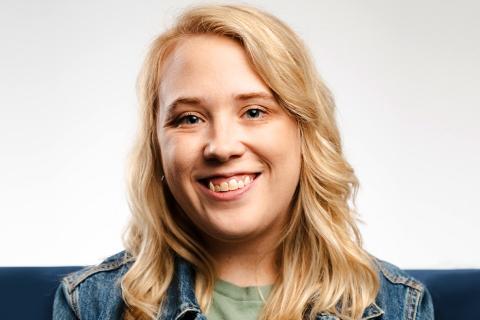 Adrianne
Heart Recipient
North Carolina
Just before her sophomore year in high school, Adrianne got a physical from her pediatrician to get the all-clear to play softball. Adrianne didn't get her clean bill of health; instead, she got a diagnosis of restrictive cardiomyopathy.
In other words, the left side of her heart was not squeezing properly to pump blood to the rest of her body. The news came out of the blue.
"It's usually seen in infants and old people," says Adrianne, who grew up in Lexington, Kentucky. "So, to get diagnosed with it at age 15, I think I was like over one in a million cases."
A local cardiologist confirmed her diagnosis. What the doctor didn't tell Adrianne—but told her parents—was that she needed a heart transplant.
All Adrianne knew was that she had to stop playing sports and take some medicine, a diuretic. "I took the same medication as my grandmother when I was 15," she laughs. She traded her bat for a guitar. "Things didn't seem really seem that big in my world at the time. I was like, all right, whatever."
Her parents worried though. Later that fall, they took Adrianne to seek a second opinion from an expert in Boston. While he agreed with the diagnosis, he did not think she needed a heart transplant anytime soon. That's when Adrianne learned for the first time that a transplant was in her future.
Still, she felt fine and was ok with her condition simply being monitored a couple of times a year. "I was like, OK, maybe I'll have a heart transplant when I'm, like, 40," she recalls. Adrianne finished high school, went to college and only weeks before her graduation she went for a regular echogram and heart catheterization procedure.
At 23, things suddenly got serious for Adrianne. "The resident who was looking at the echogram said, 'you have the largest left atrium I've ever seen.'" She was admitted to the hospital, where she stayed for a month before a donated heart became available.
Adrianne received a new heart a week before Christmas 2016. And there is not a day that goes by that she does not think about her donor, Lauren, a teenager from Pennsylvania who donated her heart.
"There literally is that constant reminder in my chest that I'm here because of someone else," she adds.
"I think about her all the time," Adrianne wrote in a letter to Lauren's father. "I wonder if a noble action is mine or hers. I keep thinking how your daughter is the sun and I am the moon just borrowing the light. With every great thing I do it feels like she is the star because she is the reason I am here and doing it."
"I graduated college, but I have steered off of the path I studied and into one that feels more deserving of this gift," says Adrianne. "I now work with organ donation, and every day I feel little more purpose than the last."
Adrianne moved to North Carolina to work as an internal quality auditor at HonorBridge, the largest OPO in the Tarheel State, and is doing well. "I can't see myself doing anything else," she says. "I love it."
You too can change the path of someone's life for the positive. Learn about signing up as an organ, eye, and tissue donor.
Search Stories