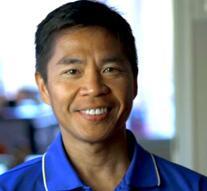 Chris
Kidney Recipient
California
Chris, just back from a morning run, bounces his young son on his knee, and helps his wife and child get out the door in the morning rush.
You'd never suspect that a few years ago, Chris was extremely ill, on dialysis, and desperately in need of a kidney transplant. He'd originally sought a doctor's advice because of depression and fatigue that he couldn't overcome. The diagnosis of kidney failure took him by surprise. "They told me I had end-stage renal disease, and that basically, if I didn't do dialysis, and if I didn't get a transplant, I was going to die."
Chris, a Filipino-American, was one of thousands of people with Asian/Pacific Islander backgrounds waiting for an organ transplant. Most—about 90%—of this group are waiting for a kidney.
Chris spent two years on the waiting list, until at last the call came. They had found a match. "I started packing, I called my mom, and my siblings and said, 'I'm going to get a kidney!'" he remembers.
After the successful transplant, Chris paid serious attention to his overall health. He had to take several medications. He began to wonder if exercise could help him cut back on his medications. That's when he found a true passion in running. "I started running, and found out I could compete. The 5Ks became 10Ks, became marathons, became triathlons, became Ironman® competitions..." Today, Chris has medals and plaques from dozens of his events. He also can add "Ironman" to his name three times.
Chris: Made Possible by an Organ Donor (:60)
Every day is a pleasure to Chris. "Your well-being changes from loss of hope...to hope...to better times ahead," he says. "I married my wife, I had a son. And the little things? Nothing bothers me. I'm alive!"
Search Stories