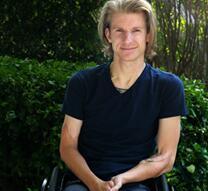 Brendan
Double-Arm Recipient
New York
Before April 12, 2009, Brendan was an active member of the U.S. Army infantry fighting the Iraq War. An explosion that day made Brendan a quadruple amputee. He relied on others for almost everything.
It was difficult for Brendan to lose his independence and his sense of being an adult. As he puts it, "When you're 22, 23, 25, having zero independence is a horrible feeling." For Brendan, prosthetic arms and hands felt like "the furthest thing from hands. They never really worked great – they were heavy, hard to use, and cumbersome."
Then General Amos of the Marine Corps talked to Brendan about a different option: transplanted arms and hands from a donor. The two met with Dr. W.P. Andrew Lee of Johns Hopkins Hospital who explained the breakthrough procedure. Brendan opted to move forward with transplant surgery.
After that came a long wait. It took more than two years to find the right donor. During that time, the surgeons rehearsed the intricacies of the breakthrough procedure. For Brendan, it "was exciting but it also felt like waiting for Christmas morning for a long time." Finally, on December 18, 2012 everything fell into place. A matching donor was found, thanks to two organ procurement organizations, the Center for Organ Recovery (Pittsburgh) and the Living Legacy Foundation (Maryland).  
Waking from the transplant surgery, Brendan felt "on top of the world . . . It was awesome, the only time I've woken up from surgery in a great mood." A successful surgery was just the start. Brendan needed hand therapy and time for the nerves to grow back in his hands. Brendan spent six hours a day in therapy doing exercises to stretch his hands and rebuild motor skills.
Brendan Marrocco, Double-Arm Recipient
Now, thanks to the generosity of his donor and her family, Brendan lives independently and can bathe, cook, and care for himself. He can also drive again, which he says "has been the absolute best thing that came out of my decision to have the transplant surgery . . . for me, it's the independence and the fun of it."
As Brendan explores the life transplantation has made possible, "I can't not think about (the donor) every time I do anything. It is because of her and her family. I wouldn't be able to do anything that I do today without them."
Search Stories