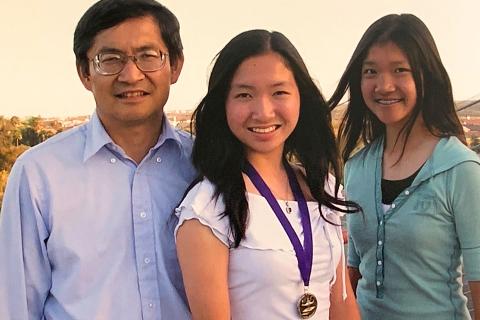 John & Kristy
Kidney, Lung, and Liver Donor & Organ Donation Advocate
California
When Kristy was just 13 years old, she and her sister Wendy got the call no one wants to receive. Their father, John, had suffered an aneurysm. His body was on life support at the hospital, but he was already brain dead before the girls arrived.  
Kristy remembers the time at the hospital waiting for other family members and the chaos of the moment. She also remembers knowing that the only good that would come of this tragedy was her father's organ donation. 
That day, John saved five families with the gift of his kidneys, lungs, and liver. 
To Kristy, it was the only thing that gave her hope during that terrible time. "At least others will have their family members," she thought. "His life will continue through other people."
In the years that followed, some of the recipients wrote to Kristy's family about how her father's gifts transformed their lives. One said that she didn't have to be on dialysis anymore and had started jogging. Another said she had been bedridden for 20 years and had no hope — but the gift from John gave her a brand-new life. 
A third letter, especially touching to Kristy, was from a father who said that he felt it was like "God working'" because he was able to walk his daughter down the aisle. "Even if I lost my own dad," said Kristy, "To know that another girl had that opportunity — that gave me peace." 
It might have been the healing powers of those letters that helped Kristy later on to write a letter of her own, this time about her father. She always wanted to give him a proper thank you and goodbye. So when the opportunity presented itself, she knew what she wanted to share.
If she could say one more thing to her father, Kristy wrote, she would say "thank you" — for all he did to give his family a good life; for all the times he said "I love you" to his girls, even when he thought they couldn't hear; and how proud she was of him. 
Even now, years later, organ donation has continued to give Kristy peace and helps her keep the memory of her father alive. She speaks to teens at schools about the importance of signing up when they get their license. She works with Lifesharing of California and joins in celebrations. All through the empathy and knowledge she has gained through the years. 
 
Why should people say yes to organ donation? "I think what people don't understand is the peace that it brings to your family. That our loss was not in vain," says Kristy. "And to know that you're living on through others and that you can change people's lives. That you can provide such a gift in this short time that we're all here? It's pretty cool."
Search Stories