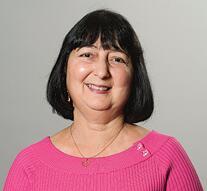 Mireya
Kidney Recipient
Florida
Two years after Mireya left Cuba and came to Miami, she learned she had kidney disease and began dialysis. Her greatest fear at the time was that she wouldn't live to see her daughter in Cuba again. Fortunately, Mireya received a kidney transplant two years later.
After her transplant, she was given another second chance. She was able to bring her daughter to live with her in the United States. Mireya now lives for more than her family and herself. She also lives for the donor that gave her the gift of life. She believes the best way to show her gratitude is by promoting organ donation.
Now, in her 60s, Mireya is a Donate Life Ambassador. She helps educate the Hispanic community on the importance of organ donation.
Mireya says "When I was at my sickest, I felt there was no hope left for me. Now I provide hope to those who are waiting for the gift of life."
Mireya's story is courtesy of Life Alliance Organ Recovery Agency, Miami, FL.
Search Stories