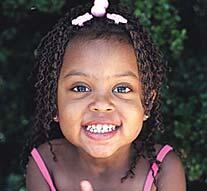 Khalieghya
Liver Recipient
California
As an infant, Khalieghya was diagnosed with biliary atresia. That's a blockage in the tubes that carry bile from the liver to the gallbladder. Doctors performed a procedure to connect the bile ducts together. However, the surgery was unsuccessful. It soon became clear that baby Khalieghya needed a liver transplant to survive.
Her doctors put her on the national transplant waiting list for a liver. Her mother worried that she might get bumped by a case considered more severe. Khalieghya was 5 months old when her family received word that they had found a liver match. Khalieghya's mother was amazed that another family was able to see through their own grief and to decide to donate their child's organs.
Khalieghya takes only one small dose of anti-rejection medication twice a day. Otherwise, she is just like other kids. She plays, runs, sings, dances, spins, jumps, hugs, kisses, loves people, and plays outdoors.
Khalieghya's story is courtesy of Donor Network West, San Ramon, CA.
Search Stories