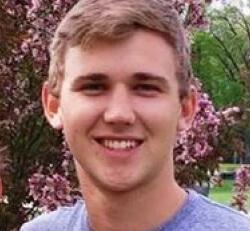 Sarah & Cameron
Donor Mother + Donation Advocate
North Dakota
He forgot to check the box.
Sarah and her son Cameron shared a second of surprise when they saw that his driver's license was missing the organ donor designation. Cameron registered as a donor through the department of motor vehicles, but he lost his wallet and his license on a recent hunting trip. He replaced his license, but forgot to re-check the box during the process. It was not a big deal – he would do it when it was time to renew.
Just two nights later, Cameron was fatally injured in a car accident. He was on life support for two days before the doctors determined that the 22-year-old was brain dead – his brain had been deprived of oxygen for too long. That was when an organ donation representative asked Cameron's parents if they would consider donation. Although his license did not show it, Sarah knew: "Cameron would have wanted this."
She forced herself to think about the situation from a different perspective: "What if Cameron needed a kidney, or a heart, or a liver to live… but five miles down the road someone died, and they just buried [the organ] that could have saved Cameron's life?" That thought was enough, and with his parents' consent, Cameron became an organ, eye, and tissue donor.
Cameron's liver saved a mother of five from fatty liver disease that developed as a complication of her fifth pregnancy.
His heart beats on inside a man who spent 11 months in the hospital waiting for a glimmer of hope.
Cameron's kidney revived a woman who had been on dialysis for years because of organ damaged sustained after her body's natural immune response to severe burns. Her doctors weren't hopeful she'd find a match at all.
With his cornea and tissue donation, Cameron improved the lives of 18 more people, all across the country.
Cameron's decision to be an organ donor gave his mother a gift, too. Now, Sarah has "something positive that came out of something negative. Because without donation, all I would have is that he died in a car accident and his life is done," she said.
Sarah has become an active advocate of organ donation, sharing Cameron's story widely and encouraging others to register as organ, eye, and tissue donors. In this way, she amplifies his impact even further.
She thinks about how much Cameron's gifts mean to their recipients. She imagines the recipients' families – people she's come to know and care about – preparing to say goodbye, and marvels that Cameron was able to spare them the pain of loss.
Sarah likes to think about how, for a while at least, the recipients and the people who love them will continue to have time together.
She visualizes the effects of their positive energy: infinite ripples echoing over existence.
Sarah lives with the heartbreak of loss, but she finds comfort in the good that resounds from Cameron's life-enhancing gifts.
Give yourself a chance to pass on hope to those in need, sign up as an organ, eye, and tissue donor today.
Search Stories