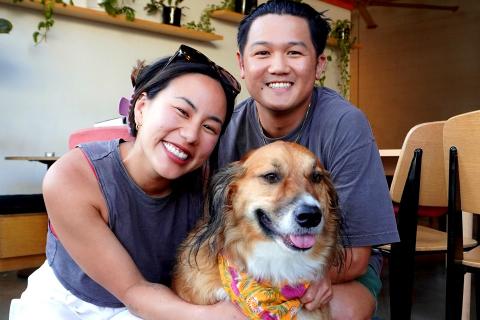 Angel
Altruistic Living Kidney Donor
California
Angel is a labor and delivery nurse. She has a kind way about her and loves to learn.
For example, by listening to an episode of HowStuffWorks podcast, Angel learned that people could donate a kidney and certain other organs while alive to someone they don't even know. This type of donation is also referred to as anonymous, or altruistic, non-directed living kidney donation.
"I could do that," she recalls. After all, you have two kidneys, and you only need one. "But you get busy, and you just don't really think about it. The idea was just in the back of my mind."
About a year later, that thought came racing back to the front of her mind when one of Angel's patients lost her baby.
"I grieved with that family," Angel says, "and I did not want to forget them."
That spurred Angel to act. "I can do something, and it might not be for this specific family, but it could be for another family."
"If I'm going to be alive, I want my life to multiply life," she says. "I basically thought about what makes life worth living. I really think it's experiences, and then I think about people who are on dialysis and it's really not a life."
She signed up to donate her kidney to someone who needed one. That was in the fall of 2022. By December she started the tests and got her labs drawn. In March 2023, Angel married her partner of just a few weeks. Two days later, she was notified that she was a match for a woman in her forties on the east coast.
Then, the couple went to deliver the news to Angel's Taiwanese immigrant parents.
"First I told them I got kidney matched," Angel says, "and then after that I told them, 'by the way we also got married.'"
While her family was happy with the news of Angel's marriage, "my parents were not supportive" about her plans to donate her kidney. "To them, it is life and death," Angel notes. "In the Asian community, invasive procedures are very taboo. I know people who would prefer to just live with a torn ACL than to have surgery on it. That's one part of the culture—you avoid surgeries unless you truly need it. Another part of the culture is that you makes sacrifices for your own, but not typically strangers."
"It was really challenging for me to go against my parents because they really do love me and they are coming from a loving place," Angel says, adding, "but I have a lot of resolve and fortunately for me I am very stubborn." She went through with the donation surgery, recovered quickly and says she hopes she can do for her community what the podcast did for her—normalize living organ donation.
She later met the woman who received her kidney, along with her family. "They're awesome, a very wonderful family." Her husband donated one of his kidneys on behalf of his wife, to someone he did not know. Together, they have two sons. "I believe we might have been part of a chain," Angel notes.
Her donation has also made Angel's life even fuller. "I've never been so proud to be alive," she says. "I'm thankful that I'm in a position that I can do this. People feel like I've taken something out of me, but really I've gained something completely immeasurable that no one can ever take away from me."
Take the first step to make your life fuller by giving life to someone else. Learn more about living donation.
Search Stories