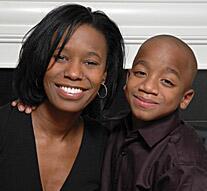 Caleb
Kidney Recipient
District of Columbia
Caleb was born with prune belly syndrome, a serious birth defect that caused his kidneys to fail. A year later, the infant started dialysis. To stay alive, he had to endure dialysis for ten hours every day for two years.
When Caleb was 3 years old, his mom, Monica, donated a kidney to him. He is now a thriving boy and is becoming more independent in taking his medications. Caleb also has cerebral palsy and needs a walker for mobility. In spite of these challenges, he has participated in the Marine Corps Marathon Healthy Kids Run two years in a row. He enjoys T-ball and "all things superheroes."
Caleb's story is courtesy of Caleb's mother, Monica.
Search Stories