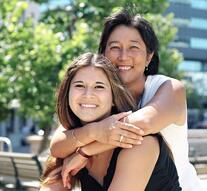 Kelly
Liver Recipient
California
Kelly made her entrance into the world as a normal and healthy baby. Shortly after her birth, she developed neonatal jaundice. A month later, she was tested again. The diagnosis: Kelly had neonatal hepatitis. Her liver was severely weakened.
Just after her second birthday, doctors predicted that she had just days to live. A few hours later, Kelly received the gift of life. Her mother, Cathy, remembers the day well. "We were sad to know that another child had died.  We were in awe that a family, in the most tragic moment of their lives, chose to help a perfect stranger: Kelly."
Today, more than 20 years later, Kelly is an active, healthy young woman. And all the family members participate in efforts to promote donation. After years of volunteer work, Cathy now works for the Donor Network West in the Community Outreach department.
Kelly has participated in Saturn Donor Day. She's thrown out the first pitch at a San Francisco Giants game. And each year, she helps with the annual Christmas party for the kids at Lucile Packard Children's Hospital at Stanford. It's the perfect place for her to give hope to the many children on the path she has walked.
Says Kelly's mother, Cathy, "It has been over 20 years since Kelly received her gift of life through a perfect stranger. This family said 'yes' to donation when their own child died. We think of her donor family and thank them in our hearts every day."
Kelly's story is courtesy of Donor Network West, Oakland, CA.
Search Stories