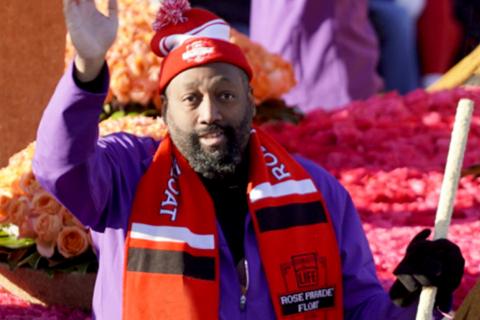 Tony
Heart and Kidney Recipient & Advocate
Colorado
Every night, Tony lights two candles. Each represents a gift – one for the heart beating in his chest, and one for the kidneys filtering his blood. The ritual honors the stranger who saved his life. 
Tony's troubles started when he was 25. An active guy who lifted weights and played drums in a band, he woke up one day without feeling in his leg. Tests showed a foot-long blood clot, and the resulting surgery revealed that the blockage had damaged his heart. His doctors diagnosed a blood-clotting disease and prescribed blood thinners.
Just five years later, Tony had a heart attack after an out-of-town show. A team of doctors saved his life, and a low-sodium diet mixed with heart medications kept him going. Still, his health declined with every year that passed. Eventually a check-up brought the news he dreaded: at age 37, he was in heart failure, and his kidneys were in danger as well. 
The doctors kept Tony's heart working with internal defibrillators until September of 2019, when it entered an irregular and risky rhythm. Tony was stabilized, and put on the transplant waiting list the following February, but soon found himself back in the cardiac ICU. The doctors told him he wouldn't be leaving the hospital with his own heart and kidneys. It would take an organ donor to save his life. 
Tony remembers the weeks of waiting. Night after night, a heart monitor flashed multicolored warnings on the wall, summoning doctors who couldn't do anything to help. 
Friends, family, and hospital staffers kept his spirits up with frequent visits, pictures to decorate his room, and hot sauces to make the hospital food taste better. Finally, on the same day a nurse surprised him with a breakfast burrito, his doctor brought him the one thing he needed most: Tony had a donor match. 
"It was surreal," said Tony. "You always know it's a possibility but, boy, there's no more nerve-wracking moment than when the doctor says, 'If you sign this paper, we're going to take you back into an operating room, take your heart out and put in the heart of a stranger'."
The heart transplant took 12 hours, and the kidney transplant took four more. Although both surgeries were a success, it was a lot for Tony's body to handle. Now, almost two years later, he's back to walking, working, driving, and drumming. He's also putting time towards a new interest: organ donation advocacy.
"How do I honor my donor? How do I honor their sacrifice? The fact that they signed up to be an organ and tissue donor made all the difference in my being here... How do I encourage those who are waiting for a transplant? Encourage those who haven't decided to register to be donors? And give back for the gift that I've been given?" 
As he tries to make the most of his gifts, Tony finds himself wondering about the stranger whose heart beats in his chest.
"What did they like to do? What were their hobbies? Their hopes and dreams? If there's something that they wanted to do that I could possibly fulfill, I would really love to know that. And I would make my best effort to do it."  
When Tony was invited to ride on the Donate Life float in the 2022 Rose Bowl Parade, he was touched to see some riders sitting under floragraphs of their donors. He wrote a letter to his donor's family but hasn't heard back yet. Tony knows they're hurting and doesn't expect a response, but part of him quietly hopes he might hear from them someday.
"In the short term, I'm trying to work, to spread some awareness...There are so many people who die each day waiting for a chance at life. And I've run into so many donor families who are so proud of that last gift." 
Say yes to giving the gift of life. Take a few minutes to sign up as an organ, eye, and tissue donor. 
 
Search Stories